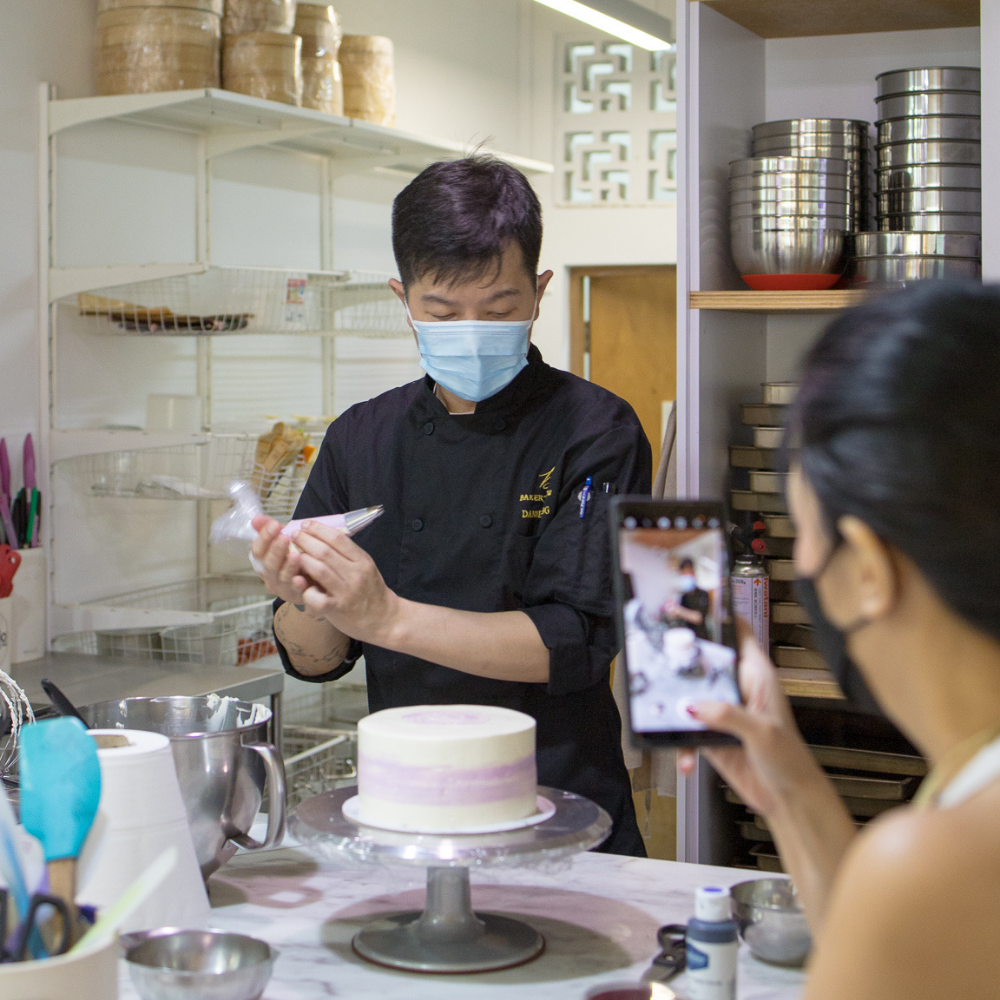 Whether you have plans to become a professional baker or simply enjoy whipping up baked treats for your loved ones at home, you can start by taking up a baking course to help you turn this fun hobby into a life-long skill. Get creative with different recipes, boost your confidence in the kitchen, and go from an aspiring baker to a professional by getting your foot in by enrolling in baking courses for beginners. If you're still unsure whether to enrol in a baking course, read on to discover all the reasons why you should!
1. Surprise Loved Ones With Delicious Baked Goods
Is your anniversary coming up? Or perhaps a friend's birthday? Whatever the occasion may be, there's no better way to celebrate a special day than with homemade baked goods served up as a sweet treat. But are you confident enough to have your freshly baked goodies take centre stage on the dessert table? By taking baking courses, be it a long-term course or a 1-day baking class in Singapore, you can learn to bring every element of the most complex baking recipes to life for any and every celebration. For example, our hands-on baking courses that are held for a couple of hours are not only perfect for beginners but also expose aspiring bakers to all the basics, such as cleaning and washing for the full baking experience. After all, who wouldn't want to be equipped with a skill that allows them to bring all those enticing baked treats on the internet into reality? When you enrol in a baking course, such as those offered at Baker's Brew, the list of recipes offered to students is fine-tuned through several rounds of experimentation to ensure that even beginner bakers will be able to learn the art of baking. And at the end of our baking class, students will be able to bring home a printed copy of the best recipes and their very own creations to share and recreate for their loved ones.
2. Turn Your Hobby Into A Career
Have you always been fond of baking? Perhaps you've always dreamt of running your own bakery? By joining baking courses, you can hone your baking skills further and be exposed to new recipes to kickstart your baking career. Learn from professionals who have years of experience under their belt and will be able to nurture your innate talent for baking and equip you with all the skills needed to bake desserts that appeal to the masses in terms of flavour and texture. With the right baking skills and technique, you may even end up opening your own bakery in the near future!
3. Enhance Creativity
In baking, you are constantly challenged to think outside the box, from creating unique flavours and designs for your baked goods to looking for ways to overcome baking hurdles such as covering up cracked icings or how to torch your meringue without burning it. Baking is an excellent way to express your inner creativity so that you produce not only flavourful baked goods but also aesthetically pleasing ones. You can take up cake decorating classes to gather more creative ideas and learn the proper techniques for designing the perfect customised cakes for special occasions. From Butterflies on Cloud Nine to Corgi Demo Macarons, learn important tips and tricks to perfect every possible dessert type and prepare to wow everyone with a delightful sight!
4. Learn New Recipes
Are you tired of baking the same desserts over and over again? Enrol in a baking course today to discover new baking recipes for a new taste for you and your loved ones to enjoy. Let our professional instructors at Baker's Brew teach you how to bake all the best desserts such as cream puffs, blackout brownies, butter cookies, blueberry danish, and many more delicious baked goods!
5. Bond Over Similar Interests
It can be hard to find people with the same interest, but look no further! By joining baking courses for beginners, you'll be able to connect with aspiring bakers just like yourself. You can bond over common interests or perhaps even exchange recipes to expand your baking horizons. Leverage this platform to strengthen bonds by hosting company team-building sessions at our baking studios. Together, you can learn all about the world of baking in spacious studios where everyone can achieve their baking goals as comfortably as possible.
Join The Best Baking Class In Singapore Today
With the help of professional instructors at Baker's Brew, you will learn how to bake bread, cake, and other pastries from scratch, discover new recipes, the proper design and decorating techniques, and more. Browse our list of baking classes and enrol in your preferred baking course in Singapore today. Whether you choose to take online classes, private classes, or face-to-face ones, rest assured, you'll come out as a better baker than before! You can read other students' testimonials to find out what you can expect when joining our baking courses – spoiler alert! You can expect fun, educational, and great things! What are you waiting for? Join us today!