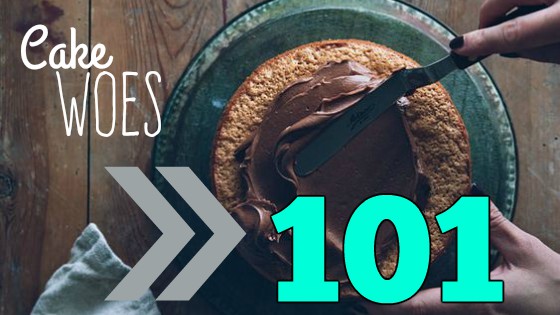 Hello, it's Heidi here!
Some of you may find me familiar but if you don't... I'm an instructor and cake decorator at Baker's Brew Studio! I've always loved the idea of learning and sharing what you've learnt in life - same goes for baking. A lot of questions will only be answered with experience because baking, as you know, is one mysterious 'thang. Thank you to my students for teaching me so much over the months... so to return the favour, I'm here to try my best and help you along your baking journey through this page!
CAKE WOES 101 is a new segment on our blog aimed at helping you solve all, if not most, of your baking mysteries. Let's start our first episode. Here goes!
-
Birthdays... weddings... anniversaries... we all face these cake dilemmas when it comes to choosing *the perfect cake*.
Hoping to make your life a little easier, I've came up with CAKE WOES 101 to clear some of your doubts about cakes. These are the more commonly asked questions we have been getting and I think it would be helpful for you to hear some advices from someone in the cake industry. The more informed you are, the better you'll get at making cake decisions!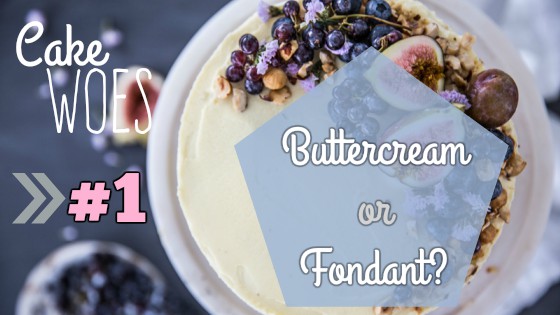 Most commonly asked:
"Should I go for a buttercream cake or a fondant cake?"
"I don't like the taste of fondant, but I like how it looks, how should I go about it?"
Of all our customers, I would say majority of you would choose buttercream over fondant a n y d a y. It's a pretty clear fight and I get it! Fondant can sometimes be too sweet for your liking, it is, afterall, made with sugar... loads of sugar. Usually, it would be the little kids who will swoon over it. But that hasn't stopped people from choosing fondant over buttercream.
What exactly IS fondant? Rolled fondant (those we use to cover cakes) is like a sweet dough. As it can be moulded into different shapes and sizes, its features makes it ideal for cake decorating.
*Example of a FONDANT cake*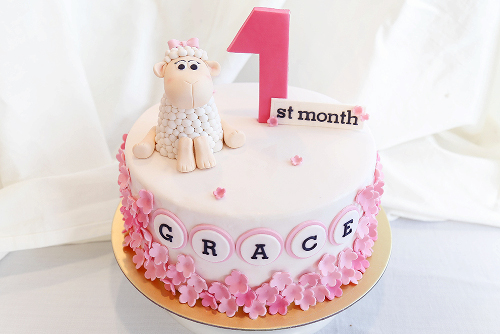 WHY? People usually choose fondant because of how good it looks. From sugar flowers that are are made to look like real flowers... to fondant characters of any sort, fondant can do what buttercream cannot. As a cake decorator, I'm telling you it is true that fondant may be too sweet for your liking.
Here's the verdict: Focus on the desired design of your cake.
If you don't like fondant and your cake design can be done with the substitution of buttercream, that's a win for you. Over at our bakery, customers usually opt for a buttercream covered cake but with fondant toppers. This way, you don't have every slice stuck to a fondant piece.
However, if your cake design can only be done with fondant, stick to the fondant. You can always choose to omit the sweet dough when it's served to you as a slice at the party. Just to let you know, fondant cakes will still be filled with buttercream on the inside so you're definitely not missing out on the yumminess!
Simply speaking, fondant cakes are buttercream cakes with an additional fondant cover. Makes sense?
Chances are, you're going to want to look and your cake and be FULLY satisfied with what you've envisioned it to be.
"Will sugar flowers or fresh flowers look better on my cake?"
"Will fresh flowers die?"
"How about buttercream flowers?"

Now... sugar flowers and fresh flowers look completely different on cakes. It gives an entirely different vibe and feel so it really depends on what you're going for.
*Example of a sugar flower cake*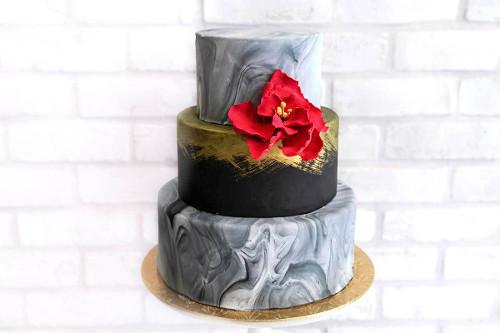 *Example of a fresh flower cake*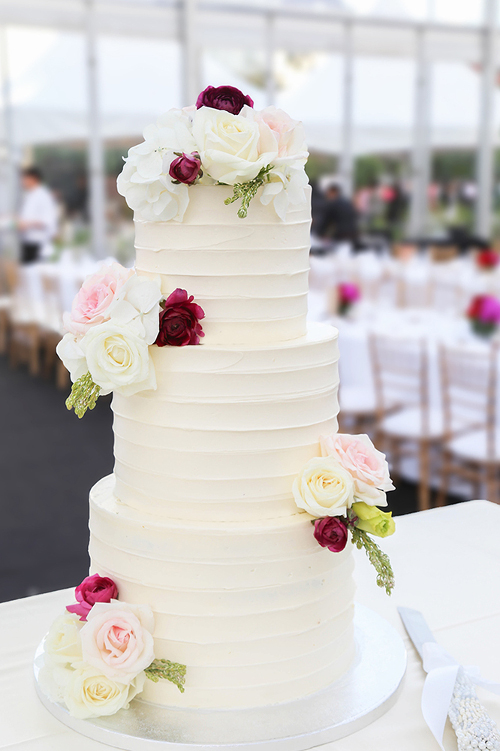 Will fresh flowers die? Yes of course, they will. Typically, fresh flowers are only placed on the cake a day before or on the day of the occasion. Flowers like hydrangeas and peonies die out faster compared to flowers like roses and ranunculus. As flowers have different lifespans... be sure to be informed about it. Always talk and discuss about your cake design with your designer and work out what flowers suits your cake best.
Consider these - Colours and size, venue temperature conditions & time of delivery.
Fresh flowers are definitely more fragile than sugar flowers. (in terms of its lifespan, that is.) But UNLESS you're going to leave your cake uneaten for a whole day or more, I don't see why fresh flowers are that big of a problem!
Fresh flowers are a cheaper yet still beautiful alternative to fondant flowers that require hours, and even days to create. Everyone knows sugar flowers require a lot of time and its the little details that makes a sugar flower look realistic - the goal of every sugar flower artist. If you appreciate the art behind handmade petals, sugar flowers would definitely be your jam! As pretty as real flowers look on cakes, sugar flowers WITH NO DOUBT tops its classy and elegant vibe a notch.
Verdict: Design (again!) & Budget
One tip: Fondant cakes go with sugar flowers while buttercream cakes go with fresh!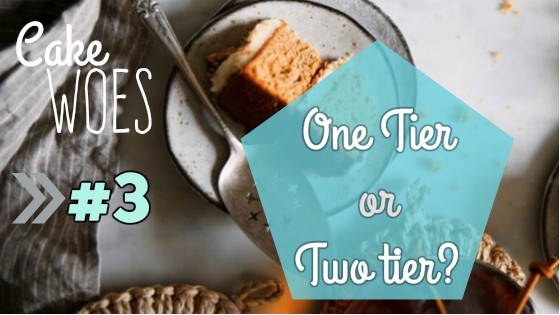 "I want a two tier cake but I'm only feeding 20 people!"

As easy as it sounds deciding on a one or two tier cake (because majority would already know this before they have a design in mind), some still face the dilemma of deciding between the two. ESPECIALLY when you don't need a cake big enough when you want one.
Remember, there's always dummy layers.
Dummy cake layers are styrofoam cylinders that imitate the actual cake tier and is usually used at the bottom most tier for the stability of its structure. Hence, if you want a two tier cake just for show, remember to ask if a dummy tier is possible!
"I'm feeding 100 people but I don't want a tiered cake because it's too troublesome to cut!"
Unfortunately, 100 people is ALOT to feed and it would typically require at least TWO-TIERED cake in our bakery as our largest cake size is a round 14 inches which serves 80 party sized slices.
What can you opt to do? Go for cupcakes that go in theme with your cake. Either that, or request for a taller cake (e.g 5 layers instead of 3.) However, do note that it'll be slightly more difficult to cut with tall cake layers!
Also, just to clarify... two-tiered cakes may look a little intimidating to cut open but I'm telling you - it isn't. Just imagine two seperate cakes on top of each other!
Verdict: If you're willing to spend to make your cake look fancy, go TALLER.
The taller the cake, the happier you'll be.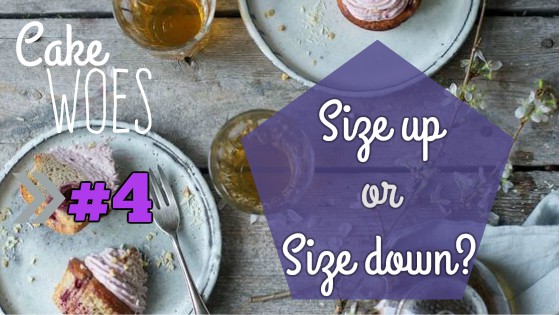 "My guests don't eat much, I don't think I need such a big cake."

"What if this size is not enough to serve all my guests?"

This question really begs down to - How much food would you have at your party?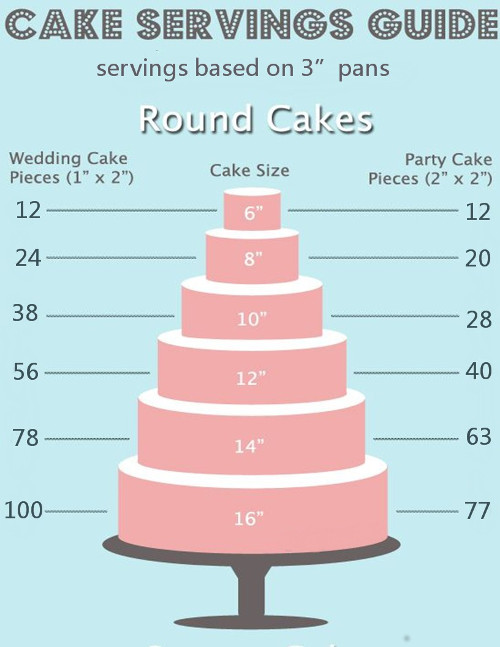 (credits to www.cakecentral.com)

It's always good to have a rough gauge on the number of people that will be present to eat your cake. Party and wedding sizes are usually smaller than an actual cake size after factoring in the food that will be served before. Hence, you're looking at a 2" by 2" slice which is (in my opinion) sufficient for an almost-full belly.
JUST never size down. The last thing you'd want is for someone to not have a taste of your awesome cake! What's more, cakes can be kept for up to 4 days in the fridge. Afterall, a yummy cake will always come in handy.
Verdict: Unless you're going to limit the amount of people enjoying your cake... always size up if you're unsure.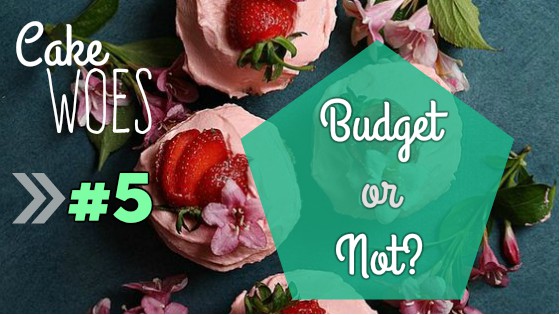 Always set aside a budget for your cake, like in whatever you do!

With that said, it is very important to be informed about cakes. Ask around... know the market prices in Singapore. Bottom line is - the more complicated your design is, the higher the price tag. As with everything, you pay for what you get. While I understand that sometimes cake can get a little too pricey for your wallet, the amount of hard work and heart work a cake designer puts in will show through.
I have gotta quote The Cake Guys, "A cheap cake ain't good, a good cake ain't cheap!"
Verdict: Have a reasonable budget!
Lastly, have an idea of the cake design you want and go for the cake store that best meets your expectations. There are a ton of shops out there, all with different styles and design... so go for the one you love the most. There will be times you'd find it confusing or get fickle but always talk it out with a designer or someone who can provide you valuable advices.
Remember, there will always be that ONE cake you'll love no matter how fickle you are. Good Luck in looking for your perfect cake!
-
Those are my solutions to cake woes 101 Episode 1! I hope I've clarified some of your doubts. Be sure to ask us more questions so we can do another post on more cake woes! Feel share to ask me questions through our social media platforms, you can always #CakeWoes to get to me directly. I can't wait to listen to some of your kitchen encounters... let's share our baking mysteries and solve it together!
XOXO Heidi
Posted in