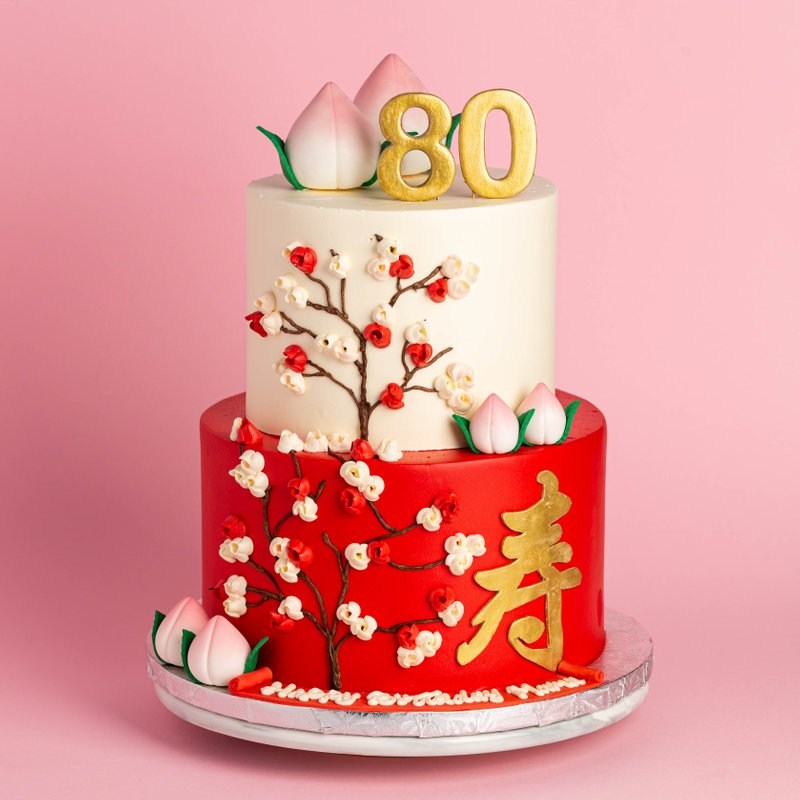 Cakes are often the centrepiece of celebrations and happy occasions. But did you know that there is a type of cake that is meant to represent wishes of longevity and good fortune for the person being celebrated?
Longevity cakes are a popular custom amongst Chinese families in Singapore. This is due to the cultural belief that eating a longevity cake (modelled after the traditional longevity peach bun) can prolong the birthday celebrant's life and bring them good luck. As such, longevity cakes are a must-have for milestone birthdays such as the 60th.
Here are some design ideas you can incorporate into future longevity cakes for your family members or even yourself:
Longevity Cake Designs in Singapore
To get started with your personalised longevity cake design, begin by sketching out a basic design or finding an existing cake design that you like. Once you have a general idea of the cake's overall look, start thinking about how you can incorporate specific elements that represent your loved one's life and personality.
Some common traditional motifs used in longevity cakes include:
Flowers: Lotus flowers are a popular choice for their symbolic representation of purity, beauty, and long life. Other flowers that are often used include peonies (symbolising good fortune), chrysanthemums (symbolising longevity), and cherry or plum blossoms (symbolising resilience) like in our Red White Cherry Blossom Cake. Our Traditional Oriental Longevity Cake is another option that comes topped with shou taos which directly translates to peaches of immortality or longevity peach. A cheongsam-styled cake, the intricate gold detailing only adds to the allure of this dessert.
Animals: Birds, especially cranes, are commonly used in longevity cake designs as they symbolise good luck and long life in traditional Chinese culture and beliefs. Other common animals include tigers (symbolising strength), dragons (symbolising power) like in our Imperial Golden Dragon Cake, and deer (symbolising gracefulness).
Nature scenes: Landscapes featuring mountains, rivers, and trees are often used in longevity cake designs as they represent the harmony of nature and the balance of yin and yang.
A modern longevity cake design gaining popularity in Singapore is the incorporation of Mahjong-based details such as in our Heng Heng Mahjong Table Cake. This celebrates the popularity of such a well-loved pastime amongst Singaporeans, while still wishing the celebrant good fortune to come.
Aside from these lovely motifs, consider a longevity cake that celebrates a "milestone" birthday. This could be a cake with the numbers 60, 65, 70, 80, or 90 prominently displayed such as in our Sunset Longevity Cake.
Once you have decided on some general motifs, start thinking about specific details that you would like to include to truly personalise the cake. This could be anything from your loved one's favourite flowers or colours to images that represent their hobbies or interests. If you're stuck for ideas, you can even peruse our gallery of customised cakes to see examples of what we've accomplished for our other clients.
Buy a Longevity Cake from Singapore's Leading Baking and Cake Company
If you're looking for a delicious and modern way to celebrate a special occasion, consider buying a longevity cake online from Baker's Brew in Singapore. Our longevity cakes are made with only the finest ingredients, and each one is handcrafted with care.
We also offer customised and personalised celebratory cakes in a wide variety of flavours and designs to choose from, so you're sure to find the perfect cake for your event. Order your cake delivery today and let us help you make your celebration even more memorable.