Baking Fundamentals 4-Day Course (Paragon) 6
Rachel Choo
Novice
Adult Cake Baking
Paragon (Orchard)
26 Feb 2021 (Fri)
10.00 am - 12.30 pm
Baking Fundamentals 4-Day Course (Day 2) - PARAGON OUTLET
An absolute must for beginners or enthusiasts looking to gain confidence in baking! In a series of four classes, this course aims to share the fundamentals and techniques to perfect that bake in your kitchen. Developed to progressively build your proficiency with equipment and expand your knowledge in ingredients, classes each week will feature a different genre of pastry. Your baking adventure starts here! This course is perfectly suitable for anyone with no baking experience.
About the Course
In a series of FOUR classes, each week, you will learn:
In Class Day 1: (19 February 2021)
Introduction to tools and equipment in baking.
Basics in whisking, folding and piping.
Learn about meringue, sugar, flour and whipping cream.
Students will get to bring home THREE Strawberry Chantilly Savoiardi Sandwich.
In Class Day 2: (26 February 2021)
Basics in preparing baking tins, creaming and creating marbled effects in cakes.
Learn about butter and making jam.
Students will get to bring home ONE Marbled Butter Cake and ONE jar of Raspberry Jam.
In Class Day 3: (5 March 2021)
Basics in incorporating fat into flour, rolling and cutting doughs.
Learn about short crust pastries, ganache and egg wash.
Students will get to bring THREE Raspberry Dark Chocolate Tartlets and SIX Scones.
In Class Day 4: (12 March 2021)
Basics in cooking flour and eggs in making pastry.
More piping techniques.
Learn about Choux Pastries and different kinds of cream fillings in pastry.
Students will get to bring home about 12 Cream Puffs.


Course Details:
Class Dates are on

19

,26 February and

5,12 March 2021

from

10

:00 AM to 12:30 PM.
Duration: 2.5 Hours per day. Total Duration of course: 10 Hours
Type: FULL Hands-on.
Students will be working INDIVIDUALLY.
Student MUST BE 16 Years Old and Above due to the nature of the program.
Equipment, ingredients and packaging will all be provided.
Each student will get their OWN PERSONALISED APRON as a participant of the course.
**20% Discount is NOT APPLICABLE for Weekday Annual Members for this course
Please read our Terms and Conditions before you proceed to register for the class.
Duration of class might be extended instead of the stipulated timings.
Cleaning/Washing will be part of the baking experience.
Fees for the course must be paid fully in advance to secure your booking. Your booking is only confirmed once full payment has been received.
Once your booking is confirmed, no refunds or transfers to another class will be given.
There will be no make-up classes in the event of absence in any one of the classes during the course.
In the event that the minimum number of participants is not met, the course will be cancelled. We will inform you via email. You can choose to either get a refund of the course fee or attend other classes of the similar value.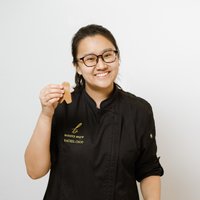 Instructor Details
Rachel Choo