Mao Shan Wang Chocolate Fudge Cake 34
Erin Leow
Novice
Adult Cake Baking
Upper Thomson
27 Oct 2023 (Fri)
2.30 pm - 5.30 pm
Mao Shan Wang Chocolate Fudge Cake
Nothing is more decadent than Singapore's two most favourite flavours; durian and chocolate! The Mao Shan Wang (MSW), also known as the Musang King, is popular due to its creamy texture and bittersweet taste. Cutting through the chocolatey fudge and sponge, you will be immediately greeted by the signature scent and oozing richness of pure Mao Shan Wang Durian paste. A definite crowd pleaser, join us as we create this sinful cake together!


About the Class
In this class, you will learn:
How to bake a soft and moist chocolate sponge.
How to make a rich and melt-in-your-mouth chocolate fudge.
How to assemble a cake with an oozing MSW durian filling.
How to create and decorate your cake using a classic and rustic design.
Details:
Duration: 3 Hours.
Type: Full Hands-on.
Recommended age: 16 Years Old and Above.
Equipment, ingredients and packaging will all be provided.
Each student will bake and bring back their own ONE 6" Round MSW Chocolate Fudge Cake.
*Students will work in PAIRS to prepare the cake batter and fudge but will get to bake, assemble and decorate their own cakes INDIVIDUALLY.

Please read our Terms and Conditions before you proceed to register for the class.
Duration of class might be extended instead of the stipulated timings.
Cleaning/Washing will be part of the baking experience.
Fees for scheduled classes must be paid fully in advance to secure your booking. Your booking is only confirmed once full payment has been received.
Once your booking is confirmed, no refunds or transfers to another class will be given.
Payment will be fully forfeited regardless of the unforeseen circumstances. We recommend that you arrange for someone to attend in your place. Please inform us of the person who will be attending in your place.
In the event that the minimum number of participants is not met, the class will be cancelled. We will inform you via email. You can choose to either get a refund of the class fee or attend another class of the same value.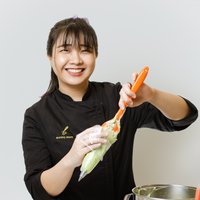 Instructor Details
Erin Leow