Duo Chiffon Cake (Sweet and Savoury) 6
Meng Hui (Senior Instructor)
Novice
Adult Cake Baking
Upper Thomson
06 Oct 2023 (Fri)
10.00 am - 12.30 pm
Sweet and Savory Chiffon
Get ready to tantalize your taste buds with a unique and delightful culinary experience! In this class, we invite you to explore the art of blending sweet and savory flavors in a harmonious dance of taste sensations. This two-of-a-kind class will teach you how to create an extraordinary chiffon cake infused with the sweet and savory goodness, taking your baking skills to greater heights.
About the Class
In this class, you will learn:
How to make orange chiffon cake from fresh oranges.
How to make savoury chiffon cake with ingredients such as Chicken Floss, Ham, Cheese & many more!
How to master the technique of achieving the ideal lightness and fluffiness in chiffon cakes.
Details:
Duration: 2.5 Hours.
Type: Full Hands-on.
Recommended age: 16 Years Old and Above.
Equipment, ingredients and packaging will all be provided.
Each student will go home with Two 4.5" Chiffon cakes. (One Sweet, One Savoury)
*Students will work in INDIVIDUALLY to prepare the cakes.

Please read our Terms and Conditions before you proceed to register for the class.
Duration of class might be extended instead of the stipulated timings.
Cleaning/Washing will be part of the baking experience.
Fees for scheduled classes must be paid fully in advance to secure your booking. Your booking is only confirmed once full payment has been received.
Once your booking is confirmed, no refunds or transfers to another class will be given.
Payment will be fully forfeited regardless of the unforeseen circumstances. We recommend that you arrange for someone to attend in your place. Please inform us of the person who will be attending in your place.
In the event that the minimum number of participants is not met, the class will be cancelled. We will inform you via email. You can choose to either get a refund of the class fee or attend another class of the same value.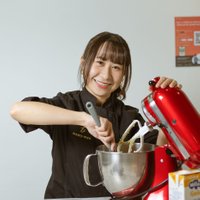 Instructor Details
Meng Hui (Senior Instructor)