Basque-style Charred Cheesecake 31
Erin Leow
Novice
Adult Cake Baking
Paragon (Orchard)
06 Oct 2023 (Fri)
2.30 pm - 4.30 pm
Basque-Style Charred Cheesecake
Unlike their American cousins, Basque-style cheesecakes are crustless; they are baked in a hot oven so that the batter's edges caramelize into a natural crust. This cheesecake is somehow both light and rich. It is creamy and custardy within but with a bitter edge from the caramelised perimeter to take the edge off the creamy interior. It is soft and fluffy when it first comes out of the oven and then it firms up as it cools, settling to a more traditional baked cheesecake consistency.
In this course, you will learn:
How to prepare a Basque baked cheesecake
Details:
Duration: 2 Hours
Type: Full Hands-on
Recommended age: 16 Years Old and Above
Equipment, ingredients and packaging will all be provided
*Students will work INDIVIDUALLY to bake their own 8" Basque-style Charred Cheesecake
Please read our Terms and Conditions before you proceed to register for the class.
Duration of class might be extended instead of the stipulated timings.
Cleaning/Washing will be part of the baking experience.
Fees for scheduled classes must be paid fully in advance to secure your booking. Your booking is only confirmed once full payment has been received.
Once your booking is confirmed, no refunds or transfers to another class will be given.
Payment will be fully forfeited regardless of the unforeseen circumstances. We recommend that you arrange for someone to attend in your place. Please inform us of the person who will be attending in your place.
In the event that the minimum number of participants is not met, the class will be cancelled. We will inform you via email. You can choose to either get a refund of the class fee or attend another class of the same value.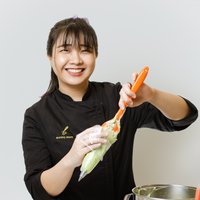 Instructor Details
Erin Leow