Homemade Brioche Doughnuts 95
Meng Hui (Senior Instructor)
Novice
Adult Bread Making
Upper Thomson
08 Oct 2023 (Sun)
9.30 am - 1.00 pm
Homemade Brioche Doughnuts
Doughnuts, Beignet, Berliner, Bomboloni; these sweet enriched breads come in many different shapes and fillings depending on where you're from or where you are eating one of these soft pillowy sugar-coated goodness, but all taste just as scrumptious! Our homemade doughnuts are filled with luscious smooth custards, ganache and curds! In this class, you will learn how make your own brioche dough from scratch, as well as 3 different fillings; passionfruit mango curd, matcha pastry cream and dark chocolate ganache.
About the Course
In this course, you will learn:
How to make brioche dough from scratch
How to cook passionfruit mango curd
How to cook matcha pastry cream (Demo Only)
How to cook dark chocolate ganache (Demo Only)
Details:
Duration: 3.5 Hours
Type: Full Hands-on
Recommended age: 16 Years Old and Above
Equipment, ingredients and packaging will all be provided
*Students will work in PAIRS for every component except piping of fillings and dusting. Each students will get to bring home about 9-12 doughnuts.
Please read our Terms and Conditions before you proceed to register for the class.
Duration of class might be extended instead of the stipulated timings.
Cleaning/Washing will be part of the baking experience.
Fees for scheduled classes must be paid fully in advance to secure your booking. Your booking is only confirmed once full payment has been received.
Once your booking is confirmed, no refunds or transfers to another class will be given.
Payment will be fully forfeited regardless of the unforeseen circumstances. We recommend that you arrange for someone to attend in your place. Please inform us of the person who will be attending in your place.
In the event that the minimum number of participants is not met, the class will be cancelled. We will inform you via email. You can choose to either get a refund of the class fee or attend another class of the same value.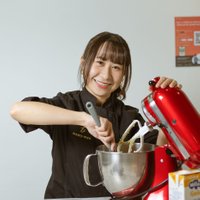 Instructor Details
Meng Hui (Senior Instructor)